My Love Affair with the Calgary Tower : YYC Film Photographer
For as long as I can remember, I've loved the Calgary Tower.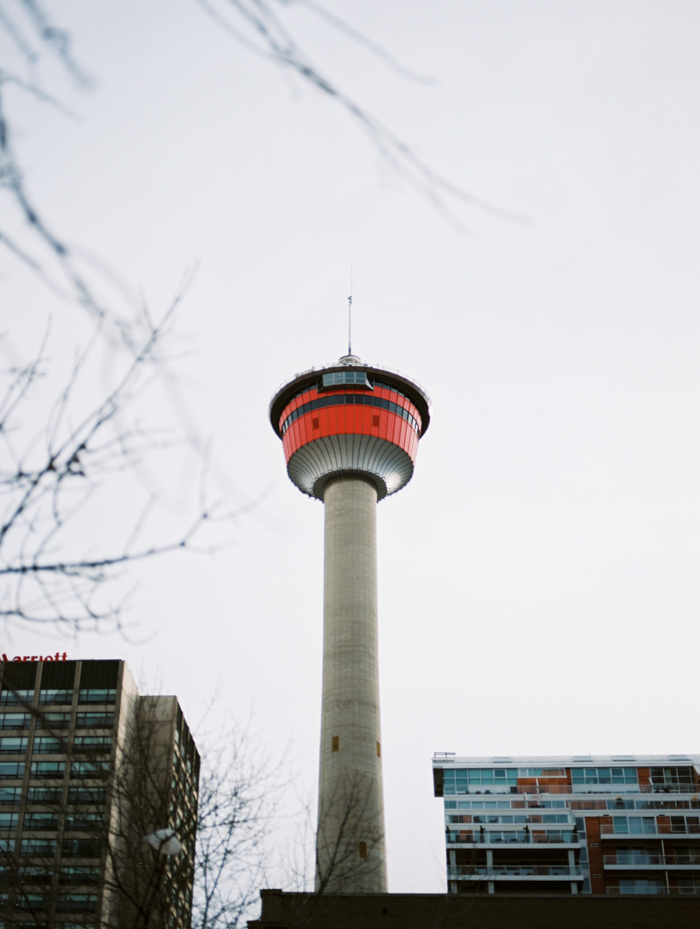 I think every city has that iconic building or place that reminds you of home – that you just connect with.  For me, that building's the Calgary Tower.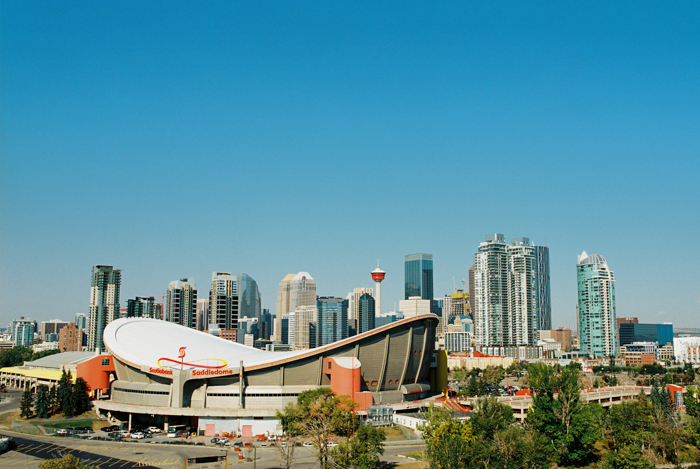 My immediate family moved down to the states a few years after I was born.  I've lived in the U.S. pretty much my whole life, but I've always had this strong connection with the place I came from.
My mom is an unabashedly proud Canadian & Albertan.  The way to her heart is through a cup of Tim Horton's coffee.  Color should always be spelled with a 'u.'  She'll root for any Canadian NHL team given the chance.  When it comes to any international sporting event (especially the winter Olympics) – the maple leaf is the flag that matters most.
She gladly passed this all down to me.
I was only 3 when the 1988 Olympics were held in Calgary.  I don't remember much of anything (except for the cardboard bobsled track my brother and I made to push our Transformers down).  Even so, growing up I felt like the Winter Olympics were special, like they were ours.  They had happened in our city.
The tower was all over the 88 Olympics.  The torch carried by runners in the relay was shaped like it.  It was on posters, t-shirts, and every photo or video showing the city's skyline.  They even installed a torch at the top of the tower that's still lit for special occasions today.
Those games impacted Calgary forever, and the symbol at the centre of it was the Calgary Tower.
That's how I've always known the Calgary Tower, as a symbol.  It's a symbol for me of who I am and where I come from.  It's the first thing to welcome me back to the city whenever we're there.  Wherever else I call home, the tower will always be one of the things that reminds me that my other home – my first home, is in Calgary.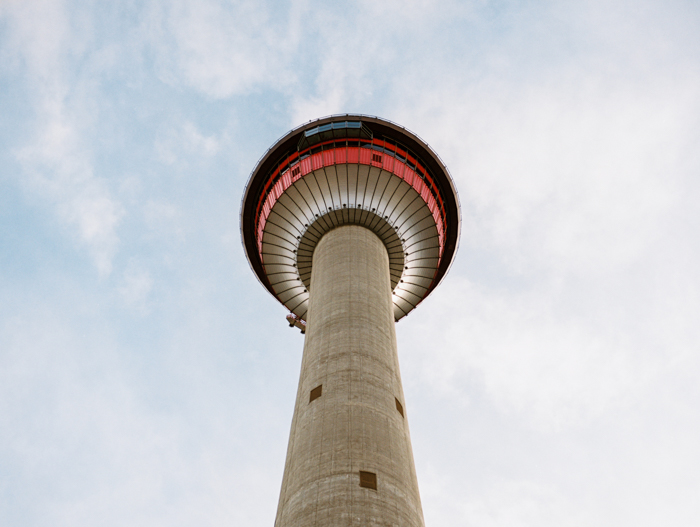 The Tower is turning 50 years old this Saturday.  I won't be able to be there to take part in the 60's themed block party, so I thought I'd celebrate in my own way by sharing some photos I've taken of it over the last few years.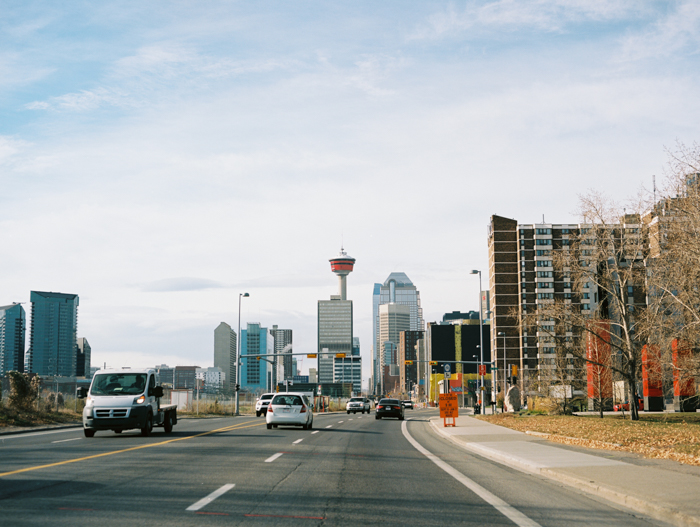 Whenever I get near to downtown Calgary, I find myself playing spot the tower.  It never gets old to me to see wherever I can find view of it poking out above the city skyline.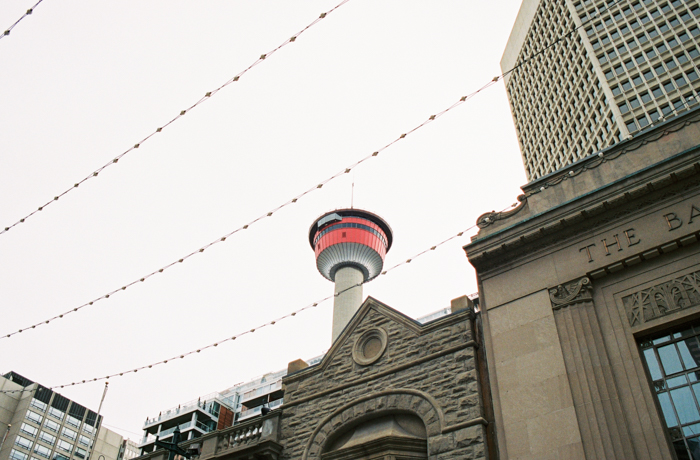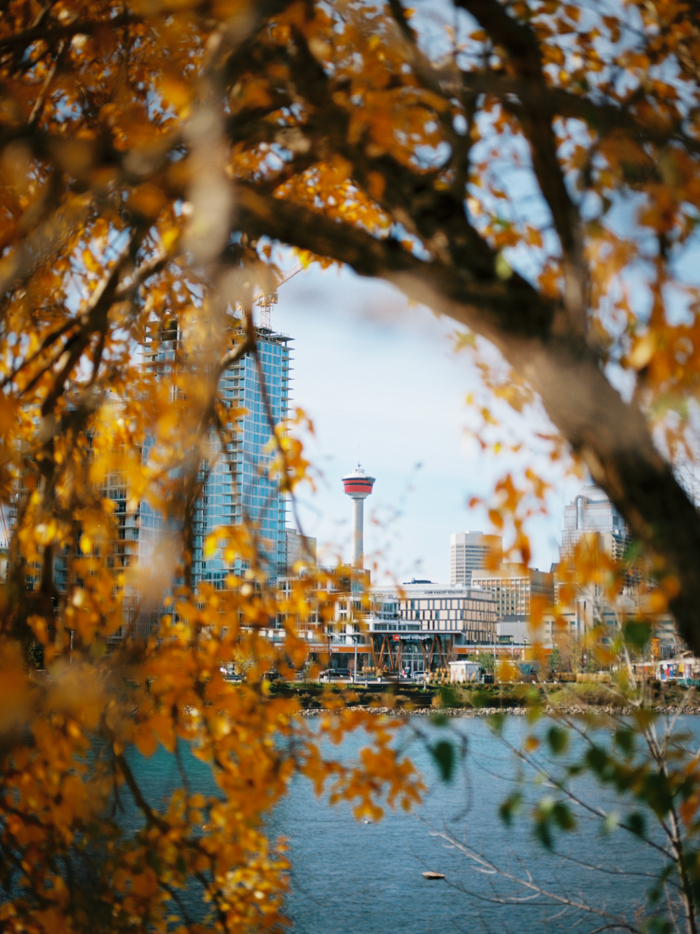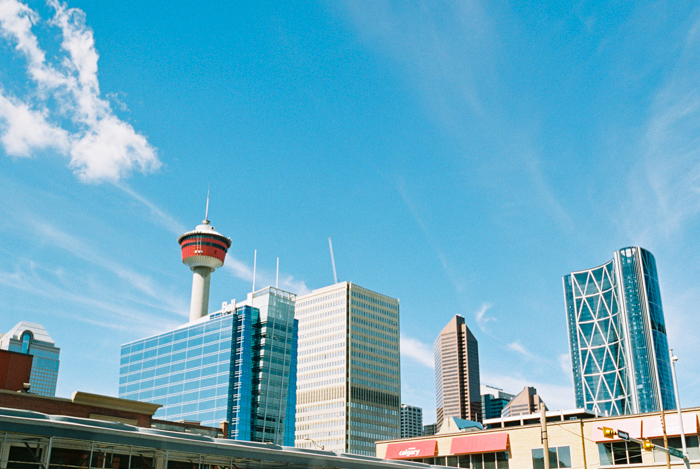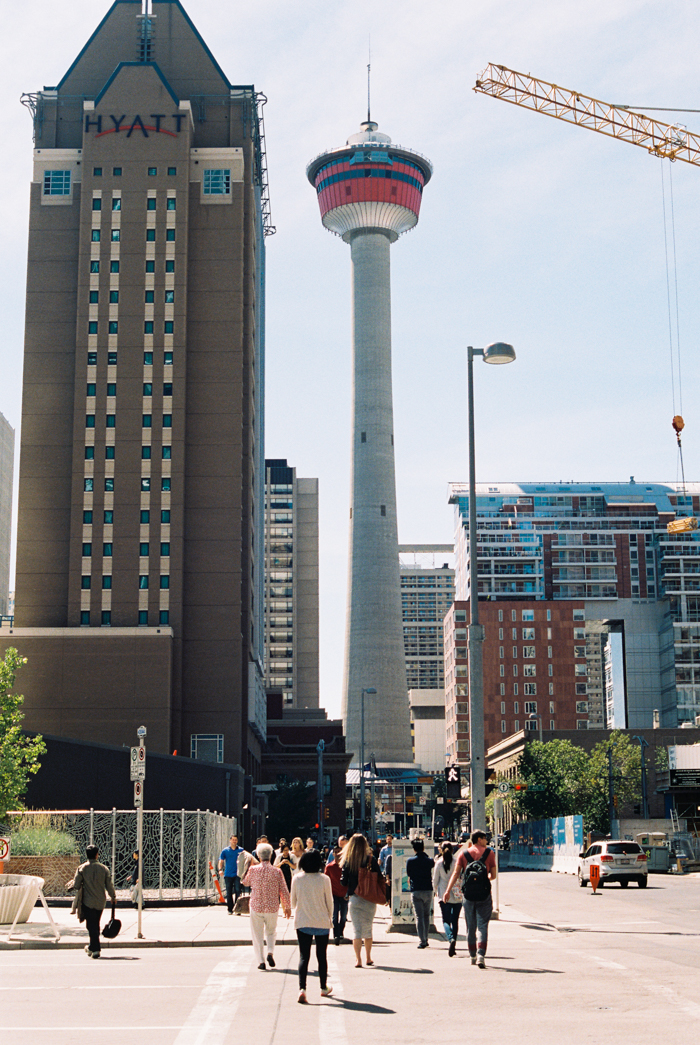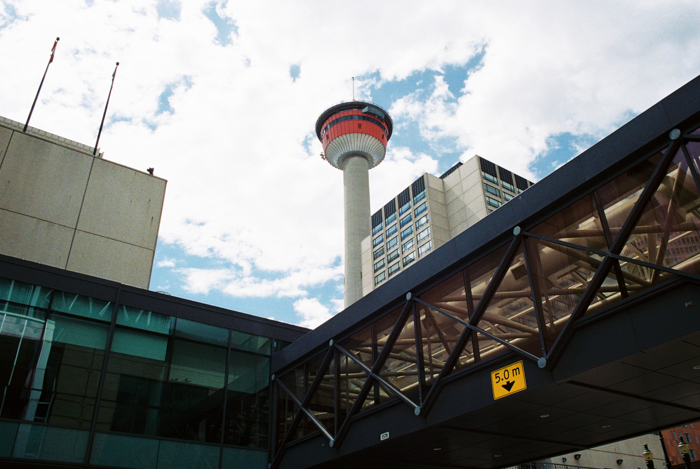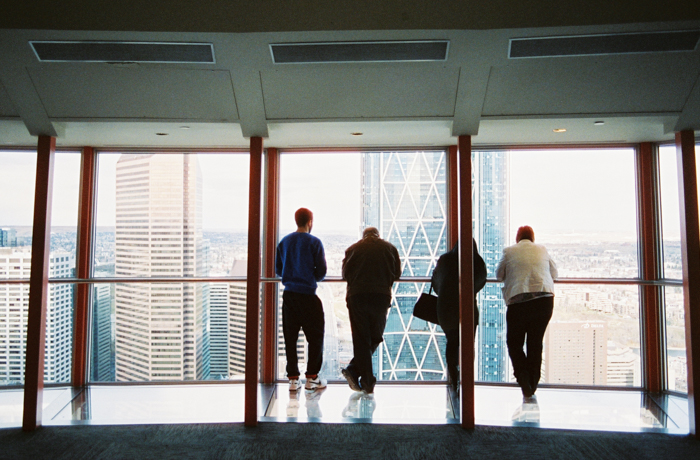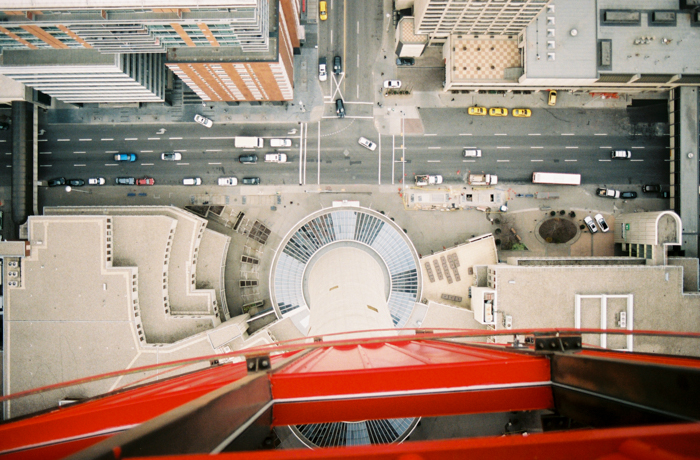 Looking down onto 9th Avenue South and Centre Street from the glass floor in the observation deck.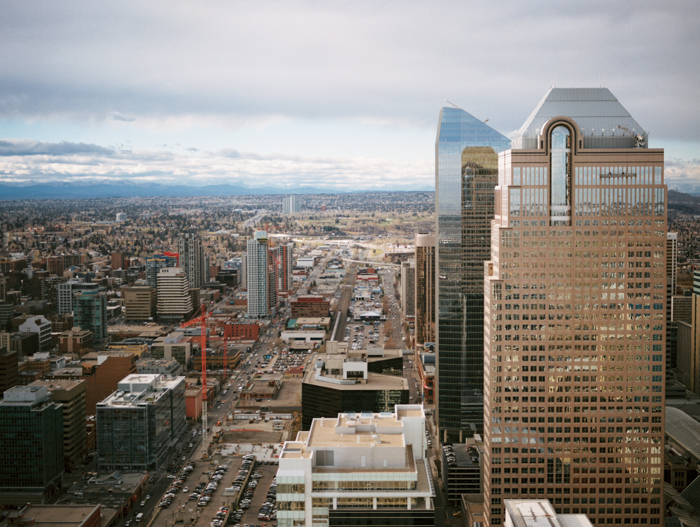 Looking west toward Rockies.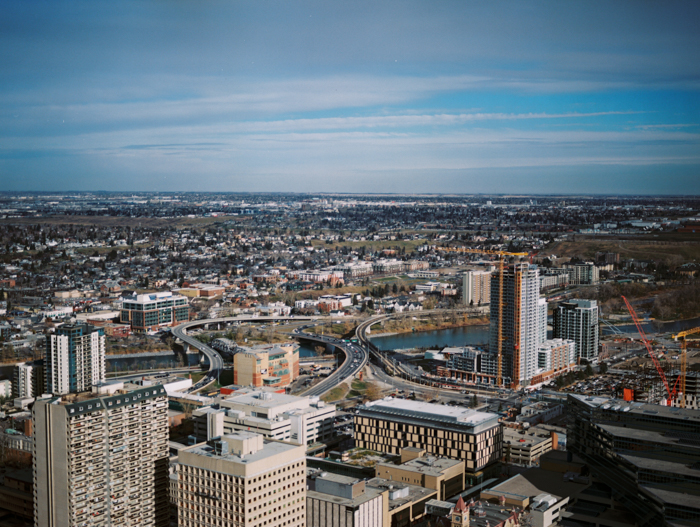 The view to the northeast overlooking East Village and the Bow River.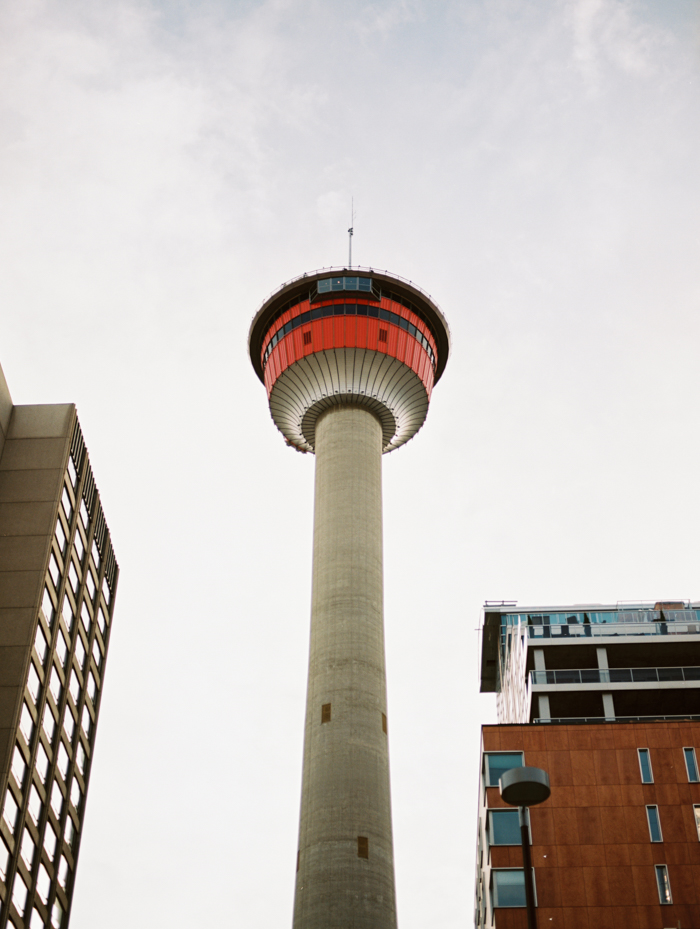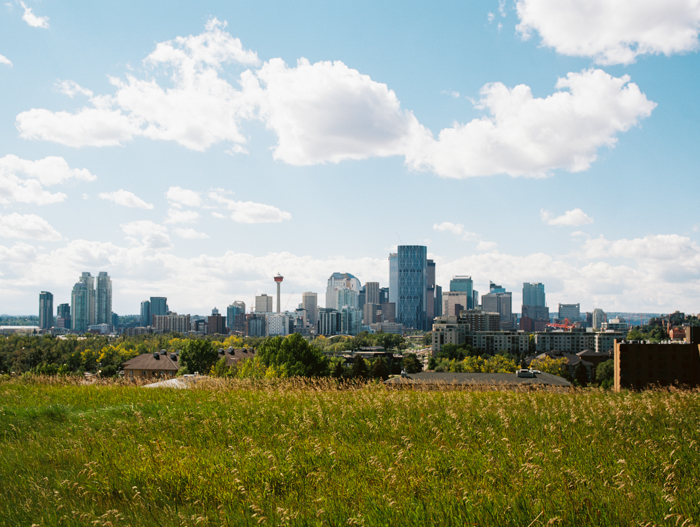 All of the images here we taken on a mix of films, including Kodak Professional Portra, Ektar, & Ultramax 400, and Cinestill Film 800t.
Need some photos of your own?
You can check out some more of our work here and find out more about us here,
but we would love you get to know you! Let's talk.