Moraine Lake Proposal : Daniel & Alexa : Banff Engagement
Wedding proposals are hands down one of my favorite moments to photograph.  There's so much excitement and anticipation leading up to the big question.  Planning everything gives me the chance to feel a little bit like a secret agent on a high stakes mission (yep, I'm a nerd).  You can imagine how excited I was when Daniel emailed me about wanting to ask his girlfriend Alexa to marry him on their trip to Banff.  I knew right away that I wanted to capture this Moraine Lake Proposal!
The timing for this whole shoot couldn't have worked out better.  Having some flexibility was key for Daniel because the weather in the mountains changes so quickly.  It just so happened that I had the whole weekend free and was able to get back up to Calgary.  He couldn't have picked a better place to propose.  Moraine Lake is one of our favorite places in the word.  We've shot there a few times and it just keeps getting better.  Honestly I'll take about any excuse to get out to Banff!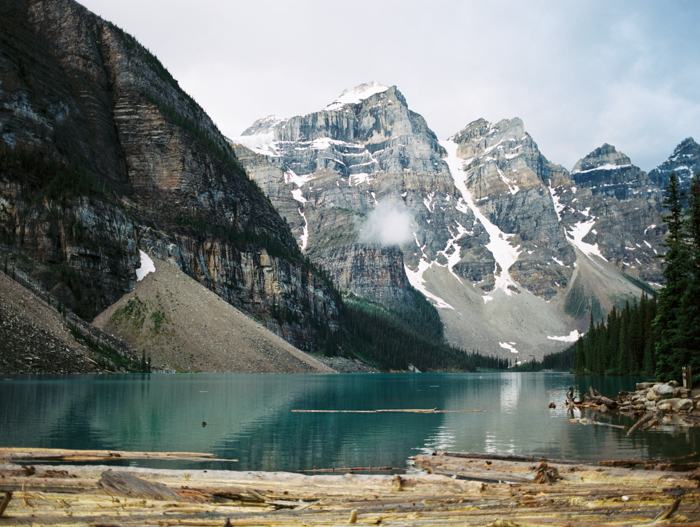 I asked Daniel a few questions about what he was hoping for in the photos of the proposal.  I loved what he had to say:
"I'm excited to surprise her in a subtle but meaningful proposal, and to start planning our wedding. For the proposal, I want it to feel intimate, unique, serene, and in a beautiful backdrop — we're big hikers/adventurers, and Alexa (and I too) prefers things that are more simple, private, unique, and meaningful to those that are conventional and flashy. She has an amazing smile that I want to capture as well, both during the actual proposal and hopefully immediately after when we embrace."
The more we walked, the more excited I was to be a part of things!
Huge credit is due to Daniel for how he planned and coordinated everything with me.  He knew he wanted to do things up on the Rockpile Trail at Moraine Lake, but had never been to there before.  On top of that we'd never met!  He sent me photos of the two of them and told me what they'd be wearing.  I did the same thing so he could spot me on the day of the proposal.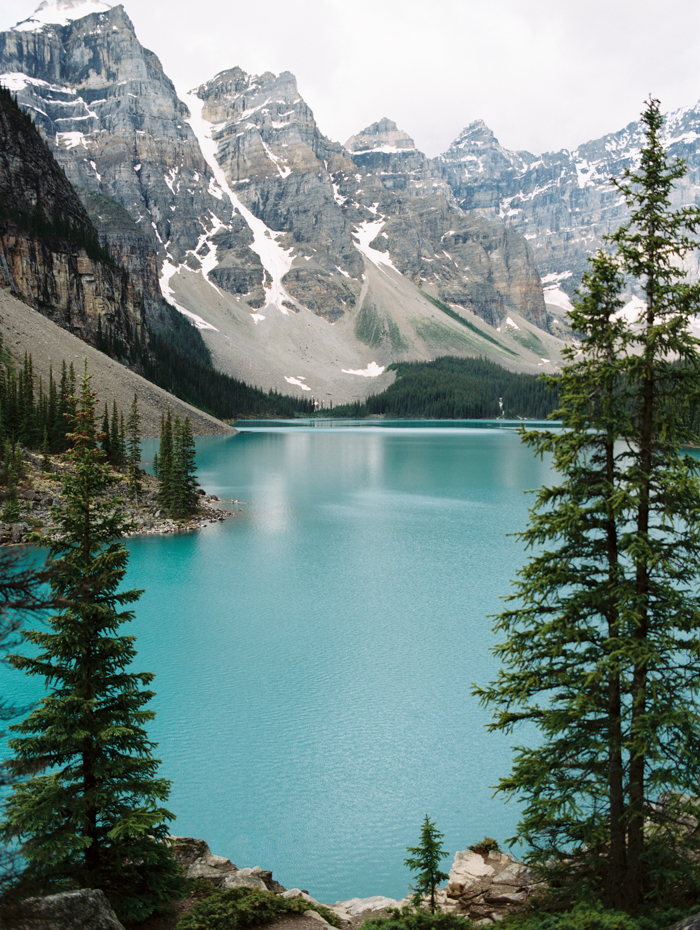 We planned it that I would be waiting by the start of the Rockpile Trail.  Once we made eye contact, I went ahead up and picked out a more private spot with a view of the lake.  The plan was for me to stand in the spot I wanted them to be and just be taking photos of the lake.  It went off without a hitch!  When they came up I just moved back and kept shooting as if I was just getting the lake.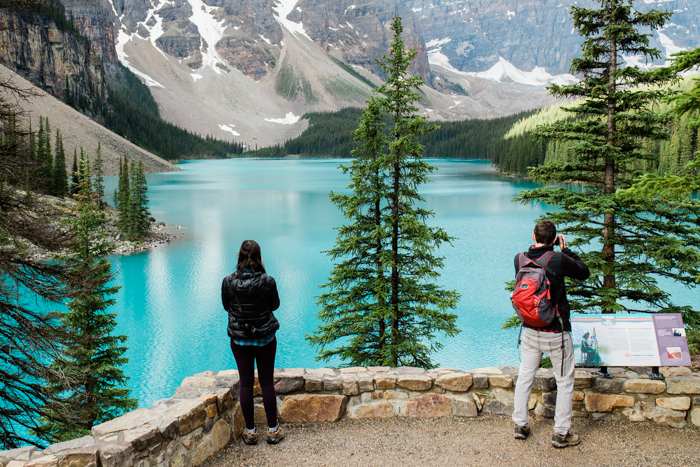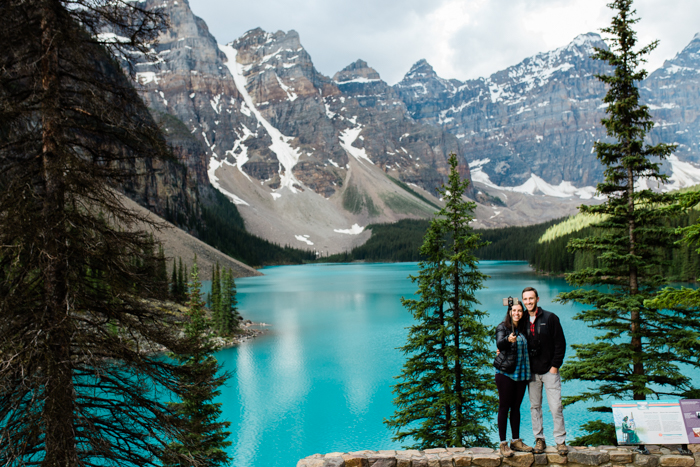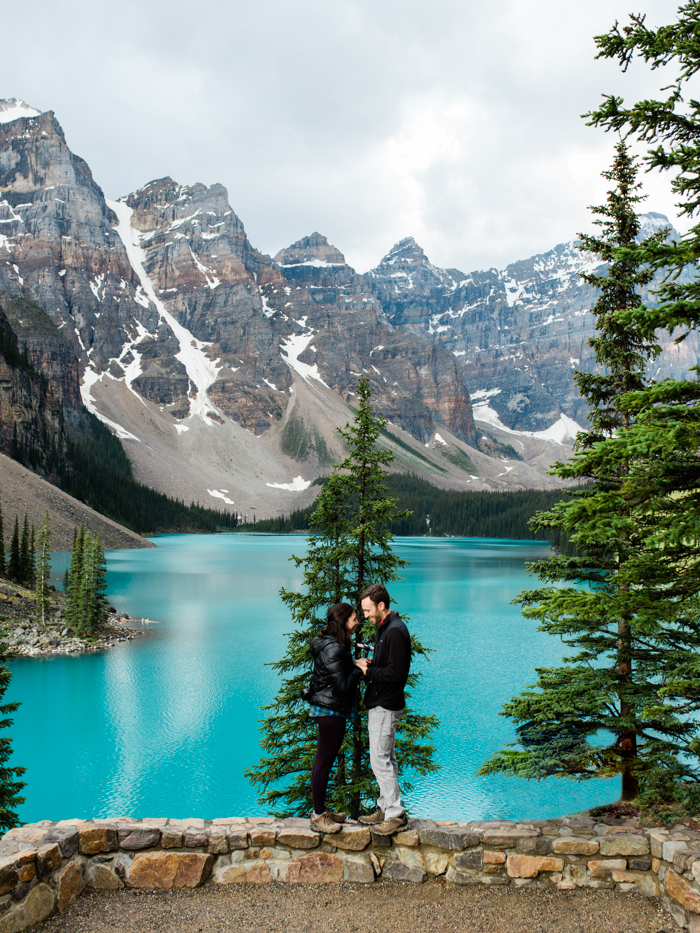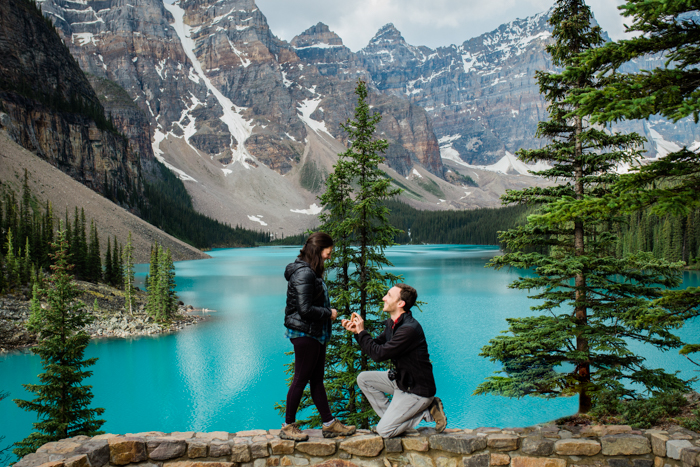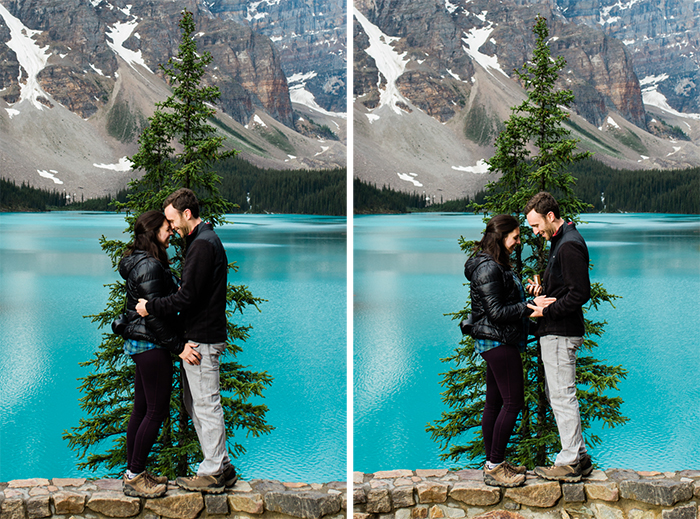 After giving them a few minutes to really soak in everything that just happened, I walked up and introduced myself.  Daniel and I filled Alexa in on everything we'd planned and how it all worked out so perfectly.  She had a feeling that Daniel would be proposing sometime soon, but she didn't expect it to happen on this trip – let alone at Moraine Lake!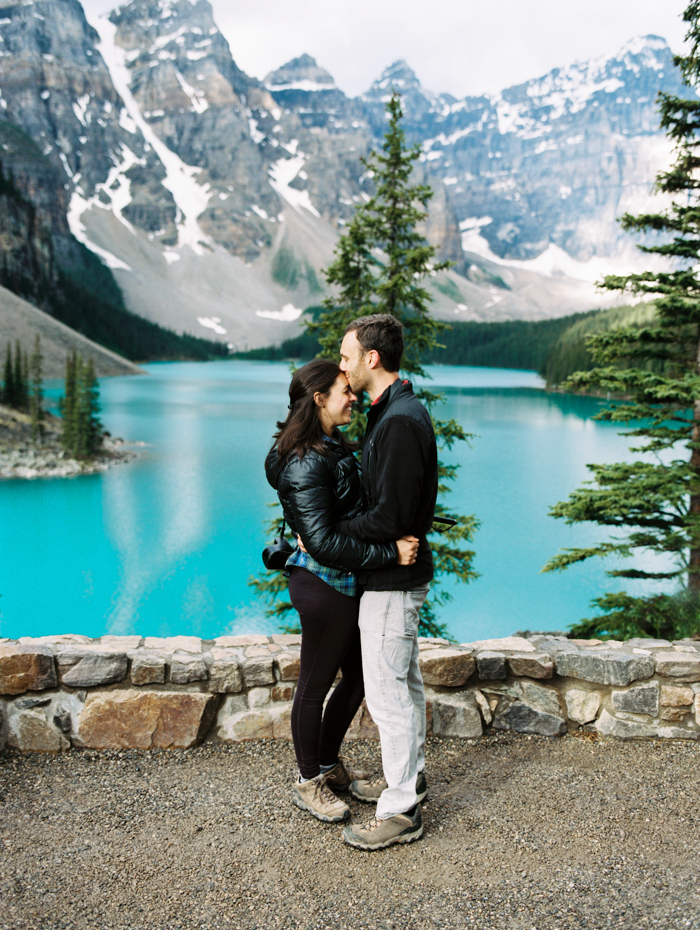 Once we made sure that Alexa was up for it, we went ahead and did a short engagement session.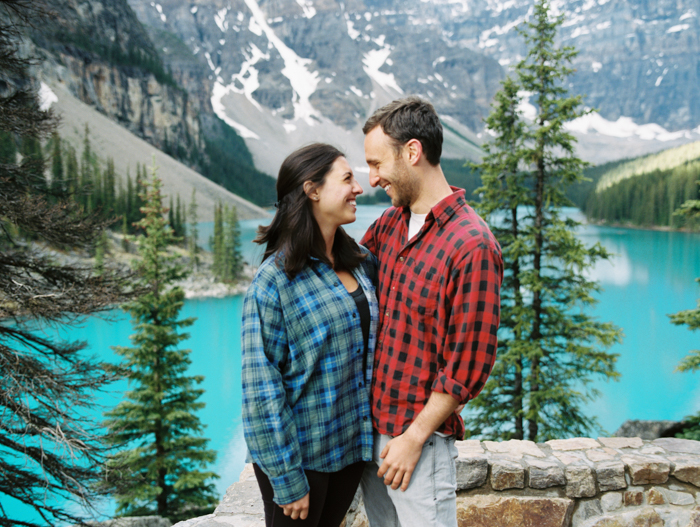 They were both wearing their 'adventure flannel,' which they joked about always having in pictures when they hike.  It only seemed right for these photos!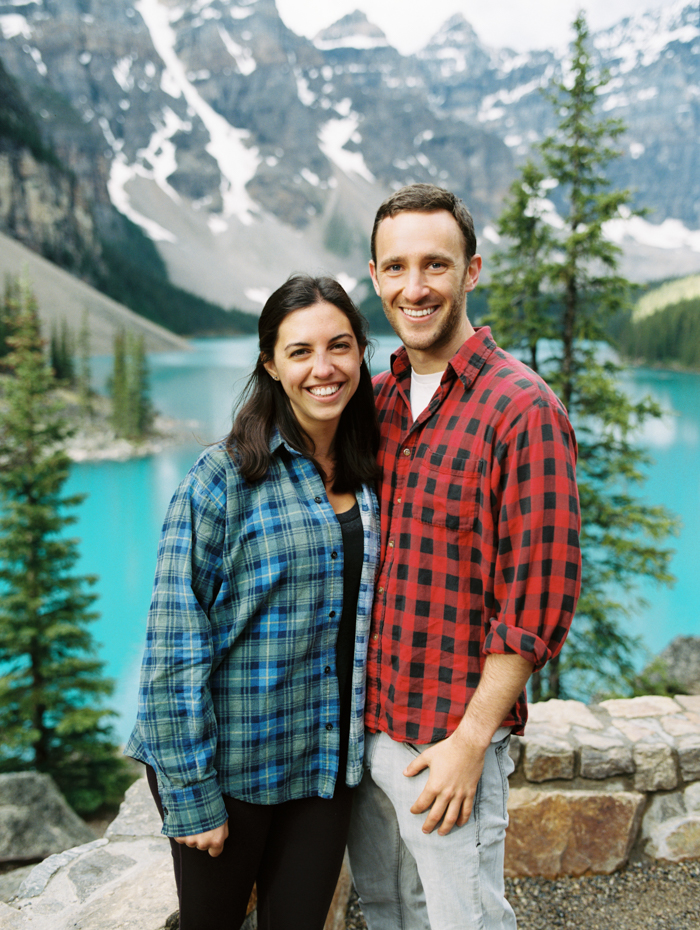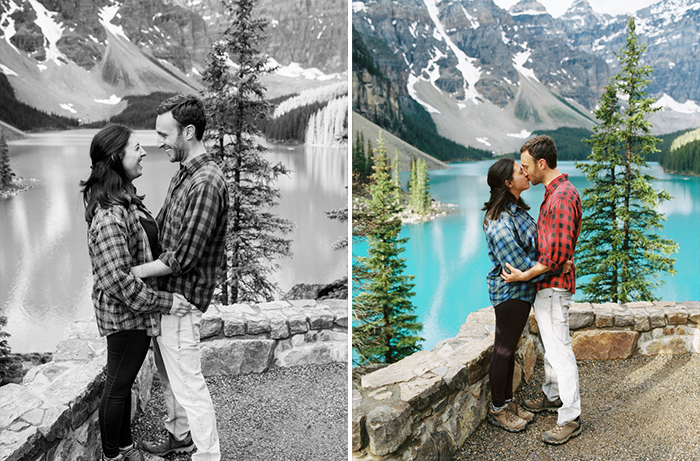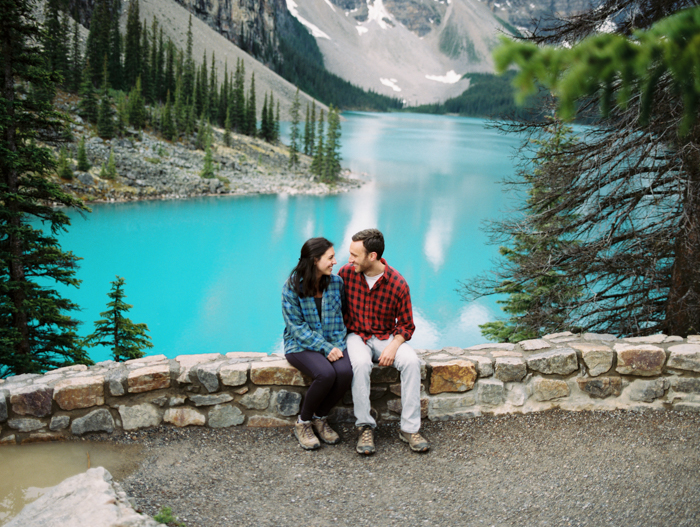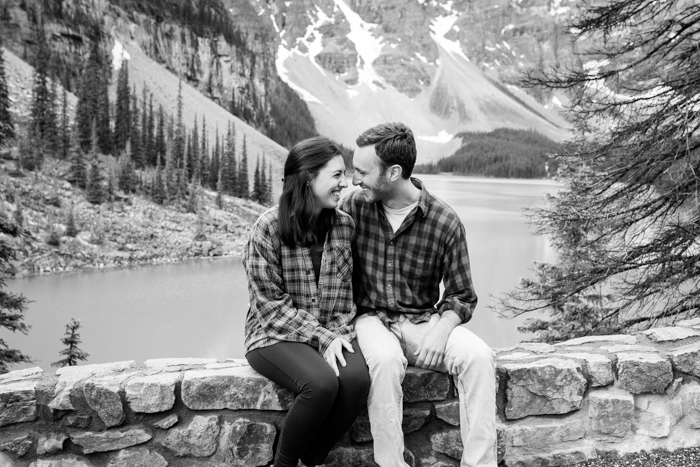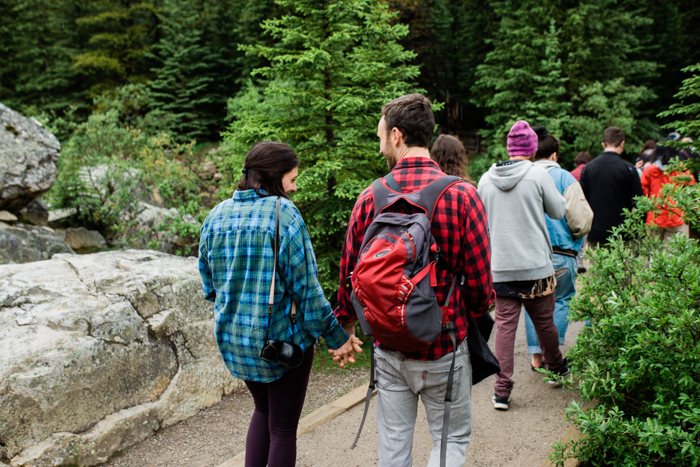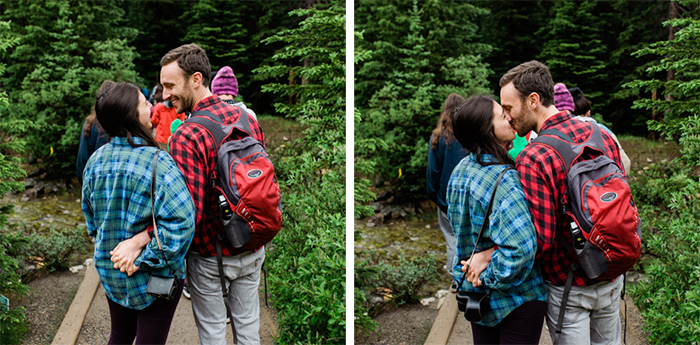 We hiked back down from the Rockpile Trail to get some of the amazing views around the lake shore.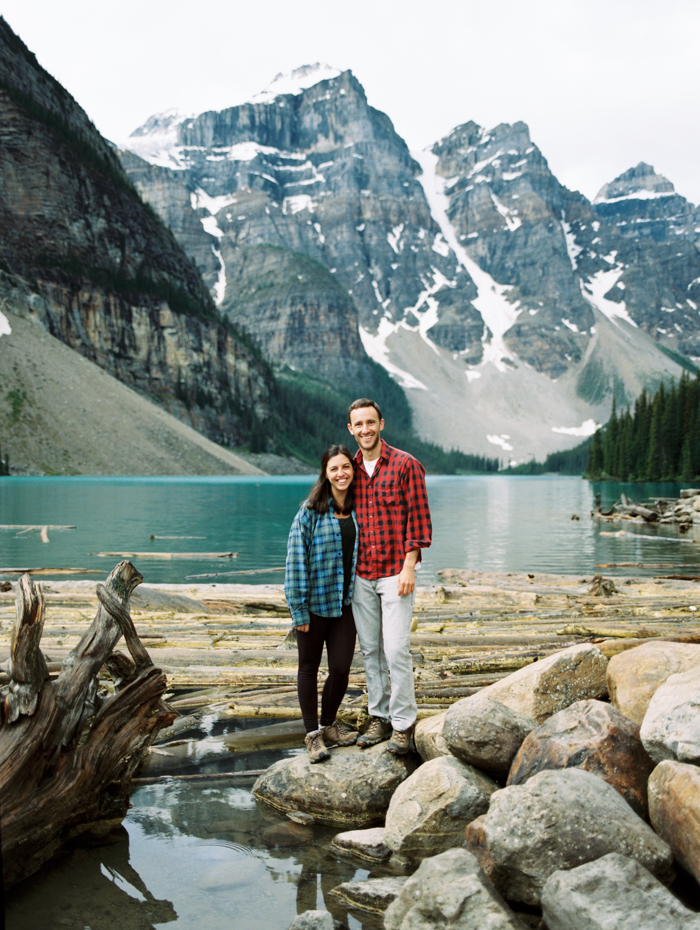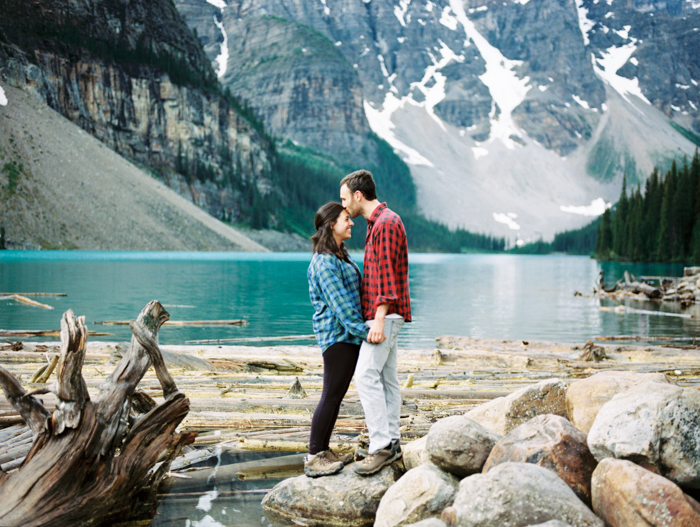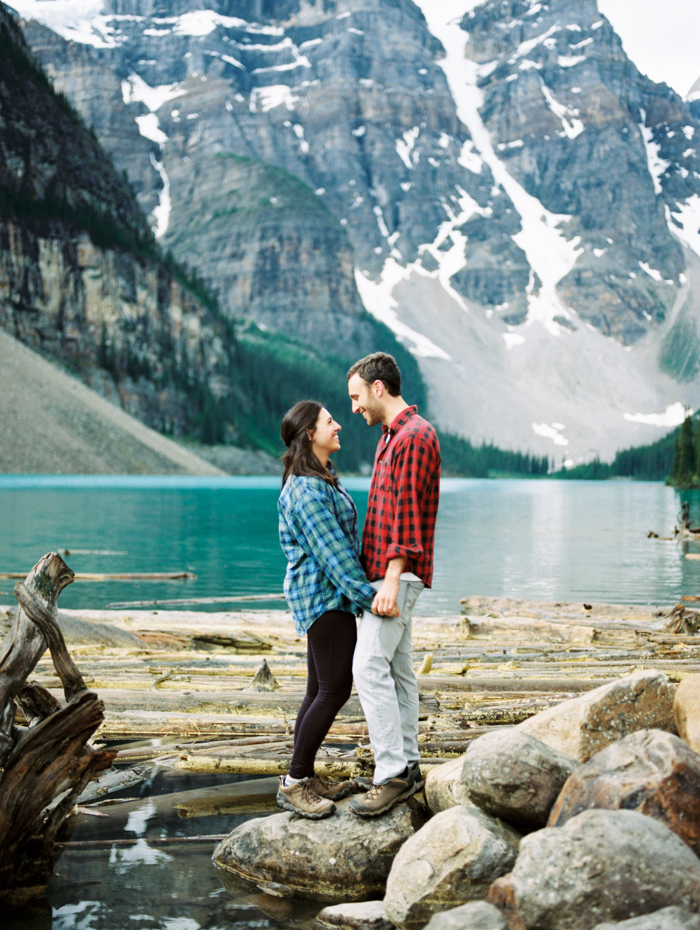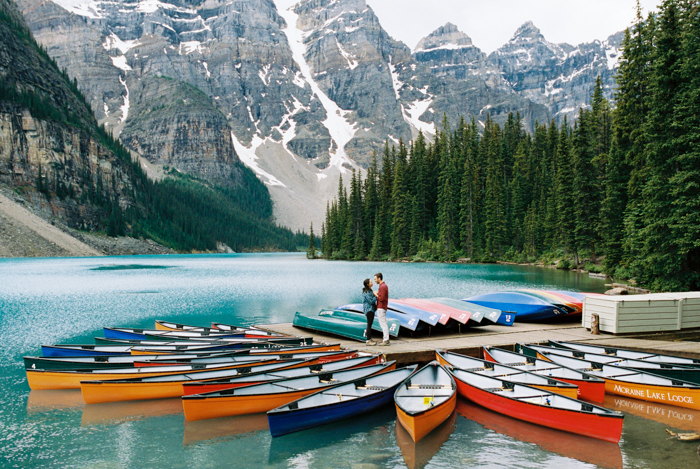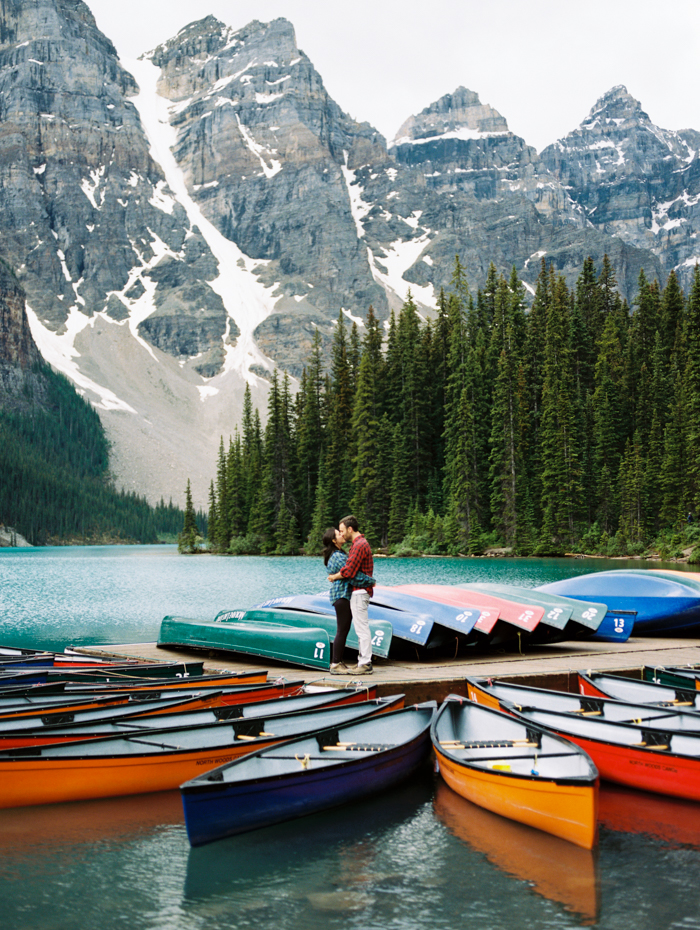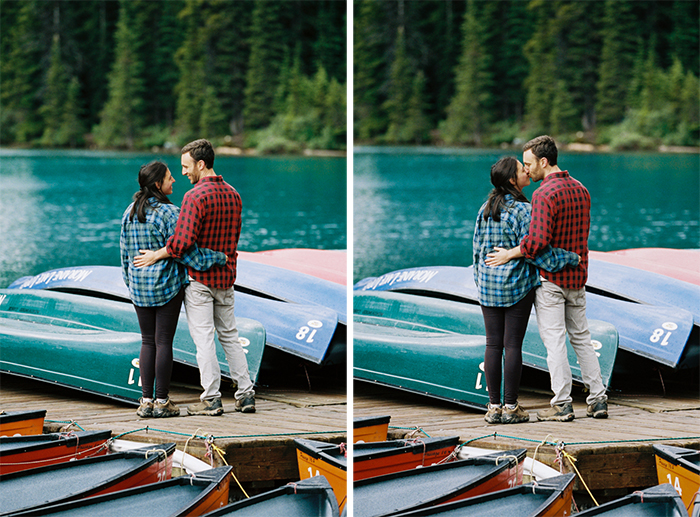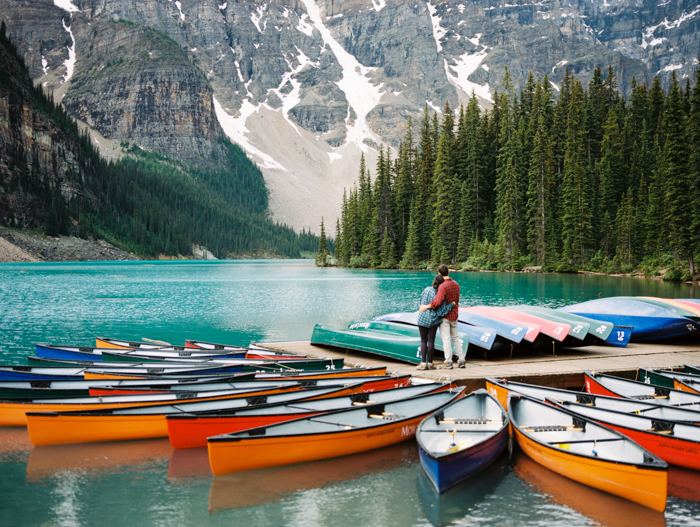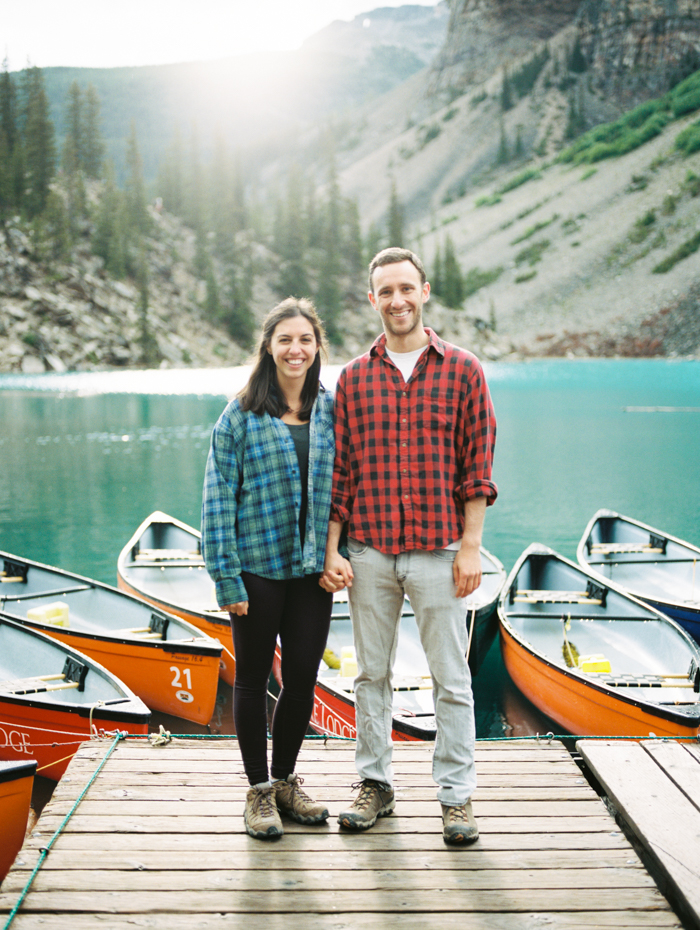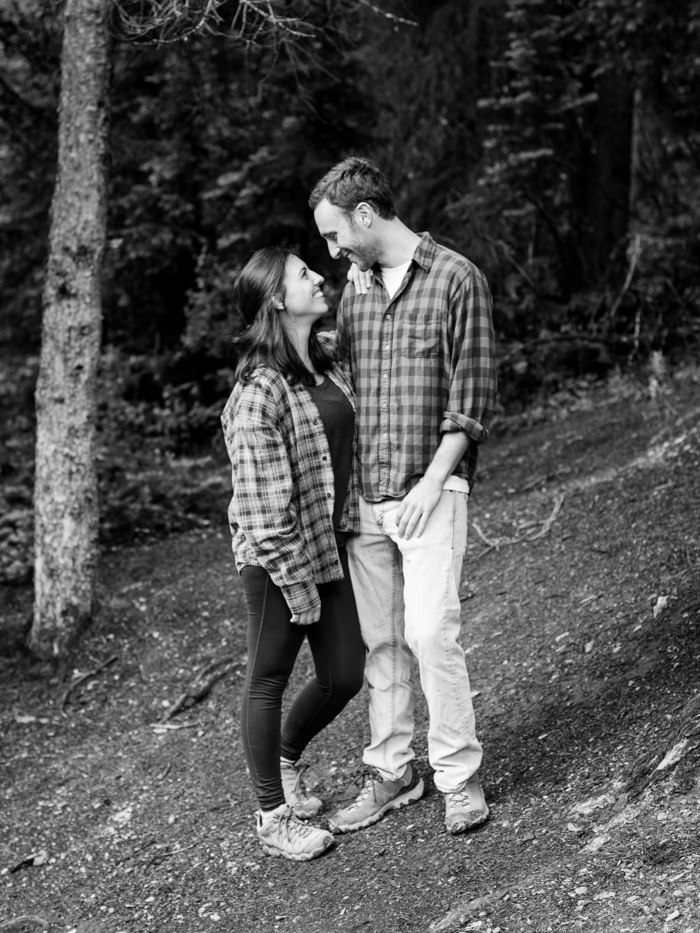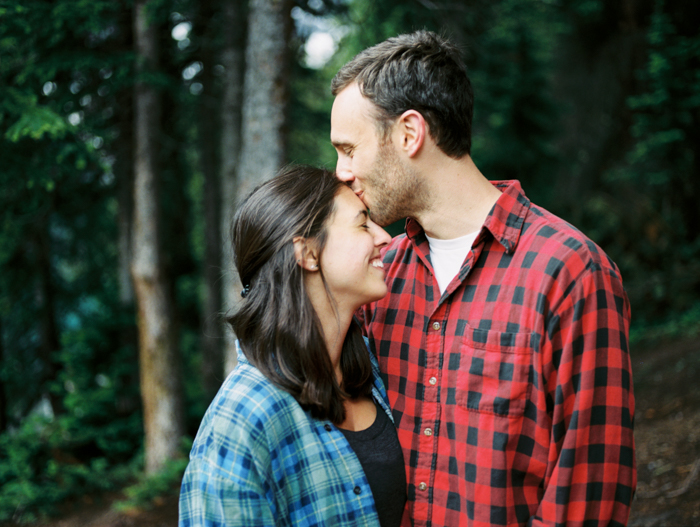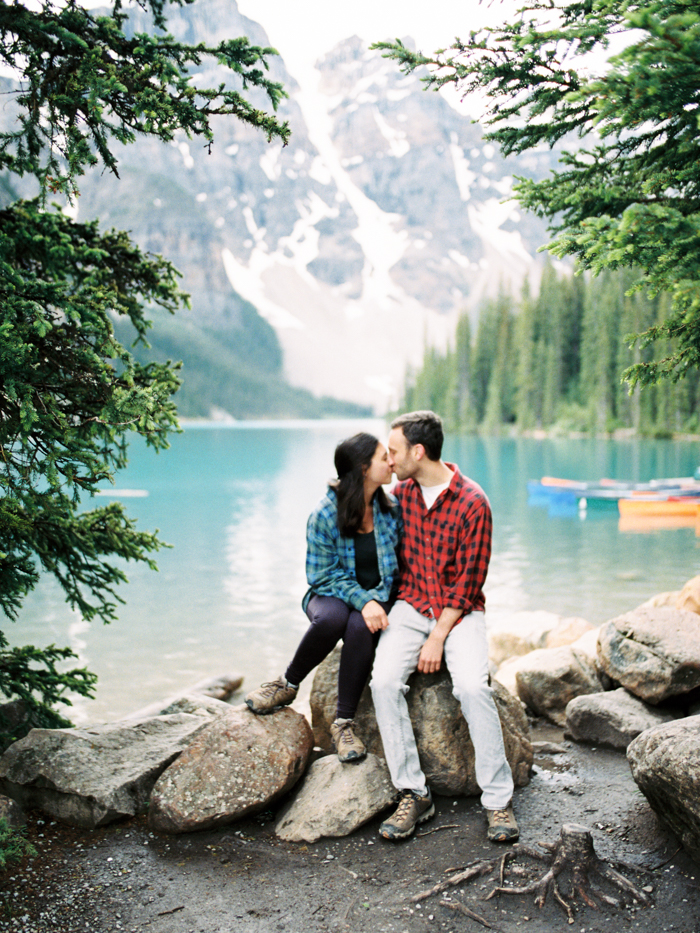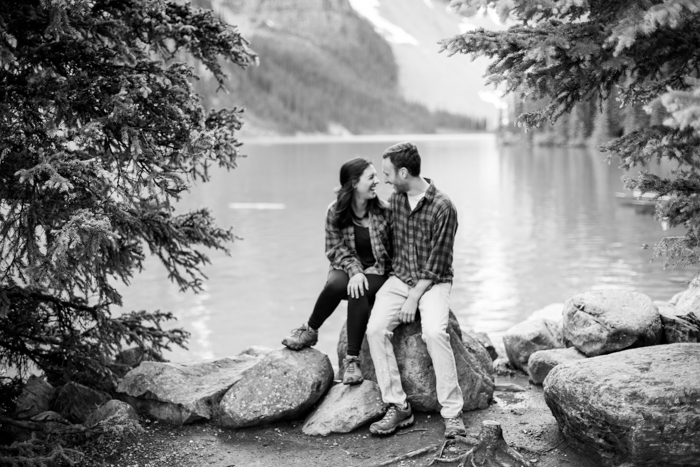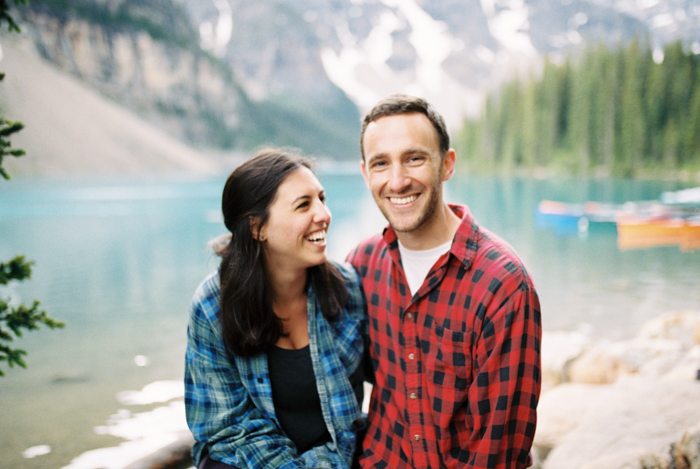 The moment we were finished up and I was saying goodbye, it started sleeting.  Just one more bit of perfect timing from this awesome day!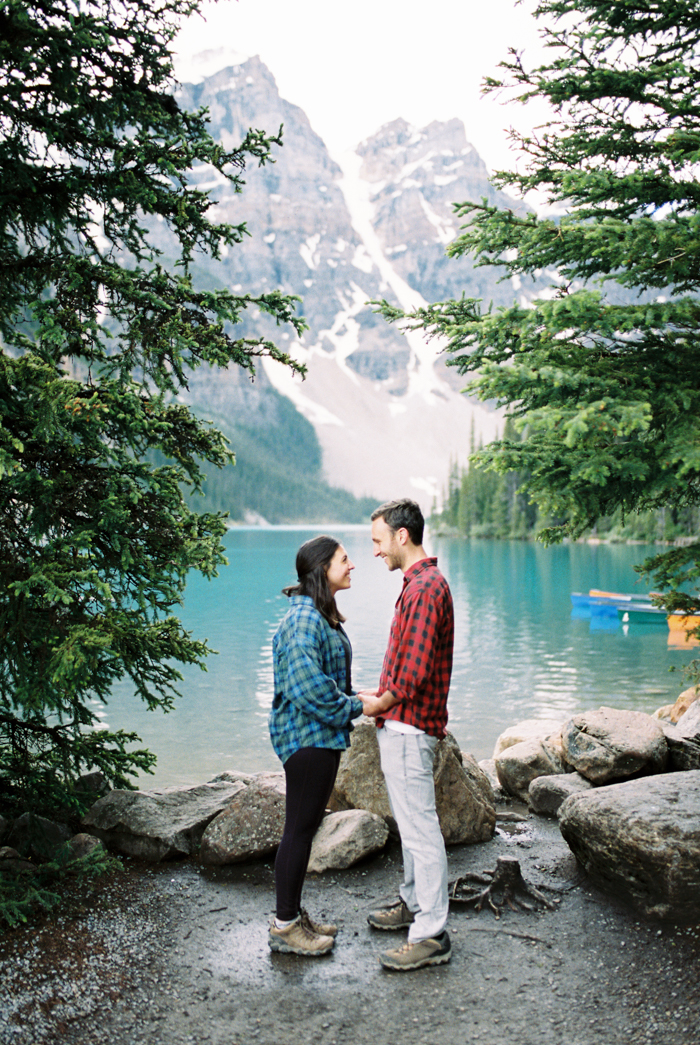 I'm so grateful that I had the chance to help coordinate and capture this amazing Moraine Lake proposal.  Congratulations again you two!!
Thinking of planning your own destination proposal or engagement session?  We want to capture it!
You can see more of our work here and find out more about us here, but we would love you get to know you! Let's talk.