Kaitie & Jared : Keeping it Awesome After 10 Years : Downtown Athens Film Photographer
Ever since a mutual friend connected us back in '12,  Kaitie Bryant has been one of my favorite people.  She's an incredible photographer who I've had the chance to shoot with and learn from (seriously, go check her out!), but even more than that, she's just an awesome person.  Hang out with her for a minute and you can't help but notice the joy in her life, and her husband Jared is the same way.  If it looks like Kaitie and Jared are laughing a lot and having fun in these photos, it's because that's just who they are!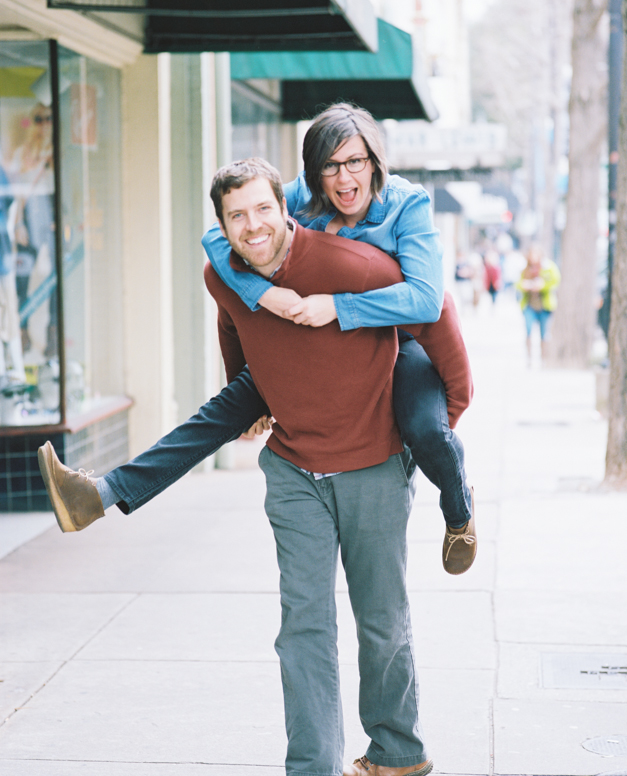 Amanda and I have been saying for a long time how we needed to hang out with these guys, eat some awesome breakfast food, and take some photos of them on film.   It also just happened to be right before Kaitie & Jared's 10 year anniversary!  Well how could we not do an anniversary session for them?  So after the glory that is Mama's Boy, we walked around downtown Athens for what has to be one of our favorite shoots ever.
Photos taken with the Bronica ETR, Canon Elan 7n, and Mamiya RB67 on Kodak Portra 160, Portra 400, and Tri-X 400.
Happy anniversary you two!
Thanks again for getting in front of the camera.  Next time you'll have to shoot us!
Need some photos of your own?
You can check out some more of my work here and find out more about me here,
but I would love you get to know you! Let's talk.